This year's Alzheimer's Awareness Month's theme centres around the 10 warning signs of Dementia and the importance of an early diagnosis. The World Alzheimer Report 2021 has highlighted that 75% of people with dementia globally are undiagnosed, equating to 41 million people.
In Ireland 64,000 people are currently living with Dementia. The Alzheimer Society of Ireland reported that figure is expected to double to over 150,000 in 25 years, 2045. With 30 people diagnosed each day with dementia, 11,000 new cases a year, it is important to highlight the key warning signs and symptoms to allow for an early diagnosis.
Alzheimer's disease is the most common cause of Dementia, linked to over half of reported cases. It's a result of a build-up of protein in the brain (amyloid) that forms plagues surrounding the brain cells, impairing the functionality of the brain.
An early diagnosis allows you and your circles of care to plan for the future, maximise your quality of life, access resources, support and information and develop a treatment plan. At present there is unfortunately no cure for Alzheimer's and dementia however an early diagnosis can slow and, in some cases, stop the progression of the disease, allowing for an extended quality of life.
While there is no one size fits all when looking at the symptoms of a person presenting with dementia as they can be unique to that individual and the type of dementia, the following are the 10 most common warning signs.
Memory loss
Difficulty performing familiar tasks
Problems with language
Disorientation to time and place
Poor or decreased judgement
Problems keeping track of things
Misplacing things
Changes in mood and behaviour
Trouble with images and spatial relationships
Withdrawal from work or social activities
1. Memory Loss
Lapses in our memory can be common, especially as we age. Memory loss becomes a cause for concern when a person is unable to remember people, conversations or things that may have happened recently.
A persistent decline in short-term memory can result in the inability to organise thoughts and language issues such as difficulty in finding the right word. Identifying family members, places and objects may also become more challenging.
2. Problems with Language
This decline can also lead to repetition of a story or questions numerous times without realising it. Many people with Alzheimer's and dementia suffer from Aphasia, the inability to comprehend and formulate language, making conversations difficult to conduct or follow.
Short-term memory loss is the first symptom people associate with dementia however it is not always the first warning sing.
3. Difficulty in performing familiar tasks
Difficulty in performing familiar tasks is an indication a person may be suffering with Alzheimer's and dementia. This can range from tasks which require planning and multiple steps such as cooking to basic tasks like bathing or dressing incorrectly, i.e., clothing on backwards or in the wrong order.
4. Disorientation with time and place
Disorientation with time and place are linked to a decline in memory. Keeping track of what date/month/season are key warning signs. Sometimes the person may forget where they are or how they got to a certain place, even if it is a familiar place to them.
5. Poor or decreased judgement
Major changes in judgement or decision making such as uncharacteristic behaviour in social situations, managing money poorly or trouble looking after themselves are subtle but important symptoms to note.
6. Problems keeping track of things
Keeping track of monthly bills, working with numbers, spending money frivolously and being uncharacteristically generous be early indicators of Alzheimer's and dementia as these tasks require a lot of abstract thinking.
7. Misplacing things
Misplacing things is another common trait that many of us may have in our day-to-day life. A person presenting with Alzheimer's and dementia however may misplace items in strange or unusual places and be unable to retrace their steps because of disorientation.
8. Changes in mood and behaviour
Irritability and rapid mood swings are key changes in behaviour linked with Alzheimer's and dementia. The person suffering can become confused as a result of other symptoms, causing them to become emotional, lash out and even depressed. It is important to remember that a person suffering still has emotions but a reduced capacity to communicate. They may be in pain or discomfort and unable to accurately express this.
9. Withdrawal from work or social activities
These behavioural changes may lead to a withdrawal from the usual social interaction or even work as they begin to experience some lapses in memory. Many behaviour changes will result in a more sedentary life, sitting in front of the TV for hours or sleeping more often.
10. Trouble with images and spatial relationships
Whilst many people will notice a change in vision as they age, people with dementia can develop issues with determining colour, seeing objects in three dimensions or problems judging distance. Spatial awareness can decrease leading to a lack or balance, spilling food or drinks more often and tripping over more.
If you are someone you are worried about is presenting any symptoms of Alzheimer's and dementia, it is important to consult your GP for further advice and referral.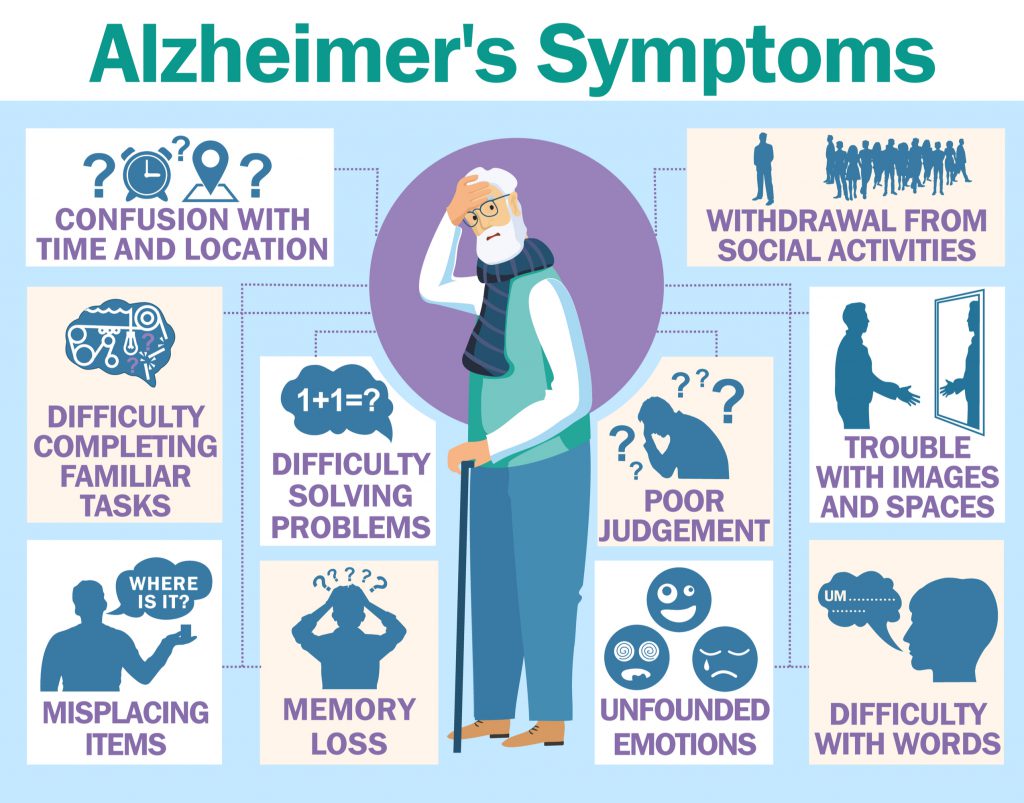 Supporting the Emotional Wellbeing of Homecare Clients In homecare, providing exceptional physical support is essential, but equally important is nurturing and supporting the emotional wellbeing of clients. Caregivers should approach their role with empathy, patience, and a deep understanding of the needs of those under their care. The importance of it cannot be underestimated and…